—I
Settle, and blossom out my neck, prickly pear,
boy of the desert. Only the flowering. Keep your fruit.
Sand and sagebrush lizard will drink your inner waters.
Yes, a desert, but the plump body underneath withstands
what we think of you. What we imagine life to be.
Open your lips to the gossamer hummingbirds.
Drink, and be drunk. Bloom, and be marveled at.
When the body is eaten, only then allow withering.
—II
I still think they're too young to hold a cherry like that.
Still wonder how they would have chosen to go; could've
been me holding them like a cherry in the teeth, just barely,
just casting shadows of encouragement and half-truths.
Like a lion. No, an alligator, with a tall and squeak-filled
hatchling. From a cherry stone, they emerge, eyes closed,
and stilled—no, poised. A knowing smile of omnivore
teeth. For what else would I give my life?
—III
They wriggled out of their eggs and ate everything in sight
together. They're eating still. Or perhaps exploring a compound
hawkweed. We're all tired; let them regain their strength.
Aposematism gives them the edge. Don't you look away.
And don't imagine your tongue against those little black claws.
They'll tear you open and rest inside, caterpillars forever, soundly
wriggling and eating and not wondering what they would have
done if they were merely born butterflies.
—IV
The dickcissel cries in want of want, less sparseness, more
for a place in the world behind him. He is a juvenile. His
feet grasp firmly for this flight, although it is not his first time
warming himself in the summer. What an expanse, what an eye
that watches with twisting clicks, a warm-up before three direct
declamations; he can hear his unborn chicks overlaid. And
pause. He can always fly. Or he can stay here and turn his head
towards me, uncertainly. But then he twitches. Then he flies.
—V
What's the use of a kale leaf covering his bedenimed crotch.
Just out of frame, she might have been laughing. Still, too.
She held it up as new leaves grow, and his muscles flexed
outward, veins ridged and golden, far from farmer's tan border.
A perfect leaf, honored and embarrassed, above a weeded
audience. When the wind blew, you could hear the blades
clapping. Just before, he was so far from Adam. Just now,
his wife knows the revelation. Her shirt read: Moonchild.
—VI
Three magpies coax each other in distant croaks, I think,
or just hopping with authority. The sandstone opens to them
in a moment of no erosion. Rain's been gone for four years.
The canyon diffuses; or is diffused. Three magpies play in
light shadows. Animal play, a mark of intelligence. On the
fence, a magpie spoke to me, but his words were too close
to God. I forget if he joined the three magpies, together as
they picked the eyes from a doe, fallen from the high plateau.
—VII
You can't dive in, but the boats may motor through. You can't
swim, but there's nothing around but cicada song today.
Such an empty sky, but empty as in clean, as in, enough, a
touch of white clouds to kiss the earth another day. The ring
of emerald shoulders the pond. Young trees, loud as the wind.
At night, each bows and drinks with a hidden esophagus. This
morning shows where the rust-colored shallows vanish and
give way to the mild threats of nowhere, summer's nowhere.
—VIII
Greatness, in the vapor's inflorescence, seeding the water as
if fish could look upwards and envision, with uncertainty, heaven;
a breathless place that loses all its color when you accept it.
The setting sun bloomed through that night. We sat in the car
afterwards and smelled each other's skin from opposite seats.
In a parallel season, my body reveals every shade. In this, I honed
into the perfectly level layers of the earth, what was above earth.
I painted life over truth.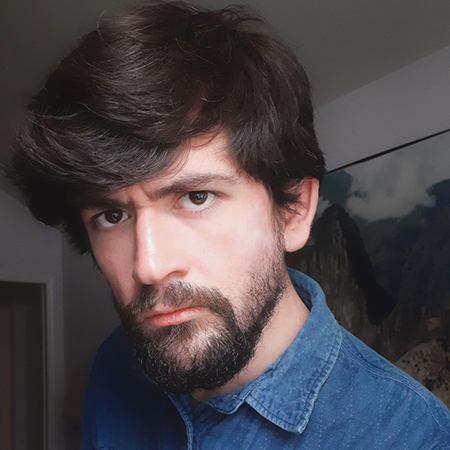 Paul Goudarzi-Fry is a gay poet and amateur photographer from central New Hampshire. He is a graduate of the Rainier Writing Workshop at PLU, and his poems have appeared in Travesties?! and DarkWinter Lit. His favorite plant is Lavandula angustifolia.
---