It takes more courage to grow things than you'd think.
I kneel in the soil, dampness from last night's storm seeping into the knees of my jeans. On the ground next to me, my tools await: spade, gloves, seed packets, a rake that seems either too long or too short or maybe both. I press my lips together and look up at the sky—cloudless— then back down to the dirt.
When I was seven, I made my first attempt at gardening in a weedy corner of our front yard, after a week of poring over A Child's Guide to Magical Herbs and begging my mother to take me to the nursery down the street. That small triangular patch of dirt soon became home to spearmint and lemon balm and sage, wildhearted plants whose green leaves shot skyward and leapt the boundaries of my plot in just a few weeks. The summer air was perfumed with a sweet fragrance, and I was delighted by my unexpected success. This wasn't so hard after all, I thought. But I hadn't quite considered what I was going to do with all those herbs, and when they started taking the innocent violets for prisoner, they turned into more of a nuisance than a gift.
I tried eating the leaves raw but recoiled at the taste, then crushed them up into salves which ended up drying into dust on the sidewalk, then sewed them into magical dream pillows only to find that they smelled of mildew after only a few nights. Then I decided it was all too much work, and switched my attention to a small aloe plant that sat alone and perfectly contained in a ceramic pot on my desk. About three months later, I forgot to water it for several days in a row, and it withered into nothing.
Up until now, I've been lucky: I never really needed to know anything about gardening, herbal remedies aside, because my mother did it all for me. No matter where we went, it was only a matter of months before she had the front, back, and side yards all overflowing with raised beds and flowerpots. In the summer, ripe tomatoes and lettuce and zucchini were never more than a few steps away; the soles of my feet were permanently stained red from raspberries that spilled out of my small fingers. While my mom bent over for hours in the hot sun, wiping sweat from her brow and patiently pulling dandelions from the earth one at a time, I was inside the air-conditioned kitchen, drinking lemonade and waiting not-so-patiently for dinnertime.
At twenty years old, I am not as lucky. For the first time, I will not be home this summer. I am taking extra college classes, starting a job, trying to become more of the adult that I will hopefully someday be. I am trying, however clumsily, to put down some roots of my own.
The ground feels firm and sturdy beneath my fingertips as I press down, testing its strength. It seems like good soil for growing things; the massive pile of weeds behind me says that much. I pick up one of the packets beside me, break the seal with the nail of my pinky finger. A dozen seeds spill out—so tiny they may as well be dust. I bite my lip. The picture on the front of the envelope shows vibrant green leaves, and the carefully printed instructions that my mother sent along with them assure me that somewhere within the contents of my palm there is life. But the seeds are so small and to my skeptical eye they just look like pebbles and I'm nervous, the kind of nervous that defies logic and science and everything your mother taught (or didn't teach) you.
I take a deep breath, then exhale, curling my fingers over the shriveled rocks. I reread the directions for the hundredth time: Plant seeds 1-2" apart. Cover with 1/8" good soil. Thin as needed when seedlings reach 4". Simple enough instructions, but… I shake my head and lean forward.
If you don't do this now, I tell myself, you never will.
I dig my finger into the earth and drop my first seed.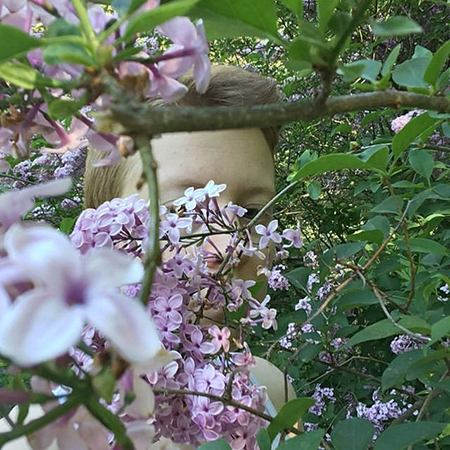 Ari Koontz (they/he) is a queer nonbinary writer and artist with their head in the clouds and hands in the soil. They are currently a creative nonfiction MFA candidate at Northern Michigan University. Ari's work has been previously published in Wizards In Space Magazine, Oyster River Pages, Ruminate, and Under The Gum Tree, among others. You can find him online at arikoontz.com or on Twitter @arioctober.
---