Exposition on Pears, as a Transmisogynist
You, too, could hate pears
if you tried. You too could pick
a hatred — plump, meat-soft,
cloying, overly-earnest —
if you reached high enough.

They're just not the right shape.
Fruit comes in shapes. Fruit comes
in rounds and oblongs
and delicate teardrop ruby cuts.
What shape is a pear? What is "pear-shaped?"
What audacity, named after itself.

A pear is too eager to be cut.
Nothing gives the way a pear does.
Gives and gives and gives and for what?
To be bright and mild and of teeth?
Nothing should want to yield
like that. To be so simple,
not even to be cut, but
like dancing, like back-leading,
the hint of a cut, the intonation
of a request, and the pear
falls apart. What a gimmick.

Where is the tartness? The way
the flesh should cleave sharp and tight?
Nothing but sweet and grain and give.
Cain himself kept
the pear for himself, knowing
nothing about it was harsh,
which is all that God beckons outward.

No, a pear is a failure. A pear
wants something it shouldn't have,
which is for you to love it,
even though it is easy,
because it is soft,
because it asks,
and because it is all
it has ever wanted.
Paper Birch Lullaby
Summer of my youthfire,
tender liking of my token sun,
there is always a close.

A canticle of the turning susurrates
through the cattails, up the river.
Eagles leave and the birch stand empty,
waiting without knowing.
It comes, she whispers. It comes bellowing,
it comes wailing, I cannot
bear it she says, I cannot hold it she says.

The morning is crisp with settling.
Into my bones, the snap of autumn waits.
Twigs among twigs, antlers left unbloodied
and shorn. Moonrise echoes and echoes and echoes.
I see my breath for the last time.
The trout sleep below the ice, unbothered.
The gentle tumor of powder and quiet
smothers and unlungs.
Out once more,
out once more.
The air is bitter, too scorned
for her to listen to my indulgence.
I look for polaris and even she refuses me,
so I will wait for the snowmelt.

The end of silence is not a tearing veil.
The curtains lay undisturbed.
Instead the lark titters once of the salmon,
who have returned bearing tales.
The crayfish yawn before tip-toeing to their chores,
and the ice gives way with the soil,
offers me a place to unburden.
My heart pumps algae and moss,
my feet tangle mycorrhiza lovers,
who beckon them to bed.
Sunlight, when did you remind me
of your name?
Originally published in trampset.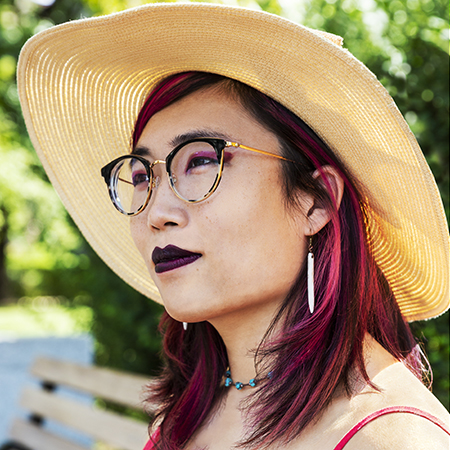 Nora Hikari (she/her) is an Asian American transgender poet and artist based in Philadelphia. She was a 2022 Lambda Literary fellow, and her work is published or forthcoming in Ploughshares, Washington Square Review, Palette Poetry, Foglifter, The Journal, and others. Her chapbook, GIRL 2.0 (Seven Kitchens Press, 2022) was a Robin Becker Series winner. She is a reader at the 2022 Dodge Poetry Festival and a finalist for the Red Hen Press Benjamin Saltman Award. Nora Hikari can be found at her website norahikari.com and on Twitter at @system_wires.
---