i stop & smell the violet bullets
that litter an otherwise-unremarkable plot of land.
i'm their biggest fan,
basking in the light of their
amethyst delight
ever since i first caught sight of them.
on our dinner table, standing proudly in a crystal-clear body,
waving their purple limbs, as if to say,
"Happy birthday, Natalie!"
i never knew a shoot to be so kind before,
whispering sweet nothings in my nostrils as i
bend over & catch a whiff of their lavender-honey scent,
a smell i'll never forget.
not even when i'm six feet under
where they rocket out of the earth,
perfect as a lilac diamond.
i don't care that others shy away from them,
shun them, write them off as "invasive."
they'll always be Mother Nature's saving grace,
peppering the Earth with a fragrant, friendly hue,
leaving me with a sad smile as i mutter under my breath,
"i love you too."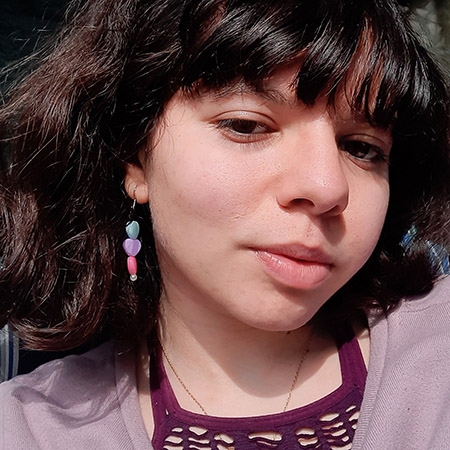 Natalie D.C. (she/her) is a 20-year-old artist and writer based in Pittsburgh, PA. Her writing
grapples with her erratic mental health and paradoxical queer half-Moroccan identity. She has
been published in The Echo, Porridge Magazine, Pile Press, Art, Strike!, and elsewhere. When
she isn't busy working towards her BA in Public & Professional Writing, you can usually find
her re-reading her favorite book over and over, watching K-dramas with her little sister, or filling
her walls with anything and everything that makes her smile. Her debut poetry chapbook, blue
pearl, is available for purchase from Bottlecap Press.