Gardening Alone
We were born as thorns
when we lived together
in marshes concealed
in darkened bark
where you left
a seed in a plot of clay,
shallow as the bed you dug.
I lay my roots down in loam
you've long sifted through
with the edge of your spade.
I hear the crunch beneath your boots,
of stones we arranged,
slipping by each water's reach,
slipping like the rosary beads
you held up uttering all my first names
in novena.
When space encroached on our landfills,
I thought you would lift the latch on the gate
but I watched the evening clouds
take the tails of your shirt;
you had drowned in that chalice-colored sea
as you wanted.
Look for me sometimes, no plant of guilt
has ever dared sprout in your place.
After all,
the pages lining the book you read every night
are children of the home
you surrendered the keys to me.
Previously published in Likhaan: The Journal of Contemporary Philippine Literature.
Cutting the Tree
After the storm, my father and I investigate the scraping that had haunted the house while the typhoon lashed Manila for days. The culprit was the rambutan tree that had dared extend its trunk past its prison plot. Shouting an apology to the duwendes out in the blank air, we shake it first and the leaves fall as the rain's afterthought. The thick body bends toward us for a few inches, then recoils to sound a gong against the galvanized sheets. My father asks me to fetch the saw and rope.
My father is pleased because my hands are no longer idle, after making the week my sabbath. I am a version of a carpenter; I transform the wood. Soon this house will be like the fruit-bearing tree, and the work will reside in the minds of their creators.
The Bible says the body is a temple, there is shelter for the spirit. / The body, it worships in labor./ The house, the body of a home. / O temple, our tenuous tenement, make yourself known. Canyou stand as the Earth spins to a new age?
We build around what we want to remember. I am dodging the hail of fruit resembling sea creatures.
Essence of the tree flying as sawdust,
Sudden and gift-like
Our own version of first snow
Eternal garden
Previously published in smoke & mold.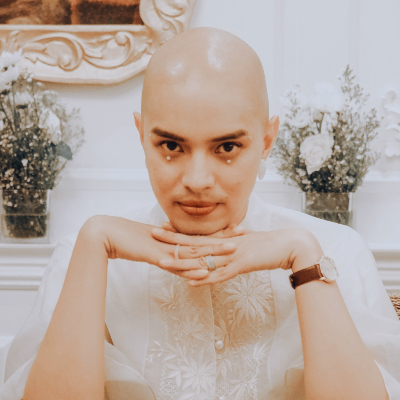 Jose Luis "Nico" Pablo is a communications manager for a non-profit. Their work has been published in Likhaan: The Journal of Contemporary Philippine Literature, Cordite Poetry Review (Australia), My Gay Eye (Germany), Busilak: New LGBTQ+ poetry from the Philippines (University of the Philippines Press), The Pinch (USA), and elsewhere, as detailed in joseluisbpablo.wordpress.com. Nico was awarded by the Carlos Palanca Memorial Awards for Literature in 2018 and won first place for poetry in the 2021 Normal Awards for Gender-Inclusive Literature. They are based in Rizal, Philippines.
---