Autumn buzzes around us, like the killing of bees.
our youthful legs still adoring crop stains,
stampeding the dense thickets, honey-sweet with cicada & fallen grapes.
our ripest inheritance— the luscious sting of maple leaves.
osmanthus, carpeting the undergrowth of
teff grain only our bare feet stomps.
we braid a garland round our neck,
having wishful thoughts of asphyxiation.
the night Japheth held his breath,
each winged creature froze mid-air as prayer weathering a quiet storm.
April, Pa buries all his love interest:
a sack of hand trowel,
a son shouldering his name & indifference.
the harvest, scanty as a willable plot of land.
friends say Japheth toyed with wizardry,
grilled hibiscus into oat,
summoning milkweed from the throat of a borehole.
we replay the scenario,
casting characters out of the wrong plot.
In our teenage year we toiled the gutters, soakaway.
sewage pits, surrounded by thorn pikes.
the leaves reddish in autumn's grip.
from the rust, we famed our jewelleries:
bracelets of green spinach.
trinkets of marshmallow lapped over our wrists—
bleeding as the early sugar carrots.

we harvest a mother bee from her hive,
and a swarm accost us.
tulips wreathing over a dull fence, lambent with fireflies.
the leftover glow, trailing us back to our homestead.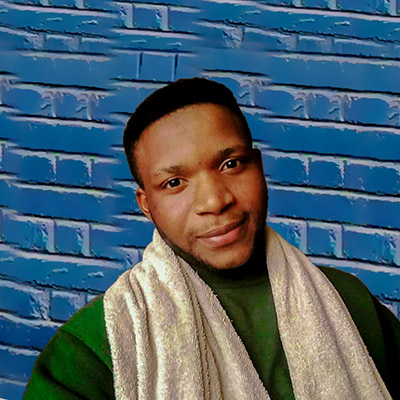 Nnadi Samuel (he/him/his) holds a B.A in English & literature from the University of Benin. His works have been previously published/forthcoming in Suburban Review, Seventh Wave Magazine, NativeSkin Lit Magazine, North Dakota Quarterly, Quarterly West, Common Wealth Writers, Jaggery, Foglifter, The Capilano Review, Lolwe & elsewhere. He is the winner of the Canadian Open Drawer Contest 2020, the International Human Right Arts Festival Award (IHRAF), New York 2021, and the 2022 Angela C Mankiewicz Poetry Contest. He tweets @Samuelsamba10. 
---