naturalization
—after Zaina Alsous
there was haddock baked in a metal tray
& a buffet of tiny square desserts, there was a view
of peaks, there were canyons & icefields & paths
descending steeply into graveyards, there were plastic
bags pledged to the wind & a black bear staring down
an orange flare, behind the verb & verb bars, the organic
olive oil boutiques, there were two humans
making their way slowly across the southward
rock face, sometimes kissing, there were park passes
to pay for & British flags splayed open on
the breeze, across from which the verdant slopes
boasted several golf courses, monocultured
for their insipid greens, there was the quiet drift
of continents, there were endangered minnows, algae
garlands in the sulphur ponds & tropical fish
released by aquarium enthusiasts, a faint lilt
of mist yielding to an orchestra of weathers, throughout
the designated conservation areas, the occupied
hands of labourers, numerous as mosses
& prone to erosion, there was moss, there were firs
& emboldened marmots, beyond the trail markers,
the gravel lots, at dinner an oil executive remarking
on his surroundings, sucking the meat off
a slab of bones & four floors below, a fawn
mere hours old, staggering into the woods
species loneliness
to vibrate borderlessly. to decay systematically. to stay against. to belong in a way not
predicated by state. to pine and ash. to be an old stone. to tree
boldly, to recall the greenest leaves of one's past without rancour. to stutter
ozone, to bleach one's mouth
or sound an ecology of bone, of hammer and hatchet in the hawk's red beak.
banner pronouncing a grammar of no and we will protect it
and we will protect it. is it a you. is we a fact. is fact static
or a charge to move. to shore upon the toes of time. to defect
via river routes. via saltwater. sutured by evening rain.
a reign of roots. a noon of fireflies, of fire
fomenting the forest anew.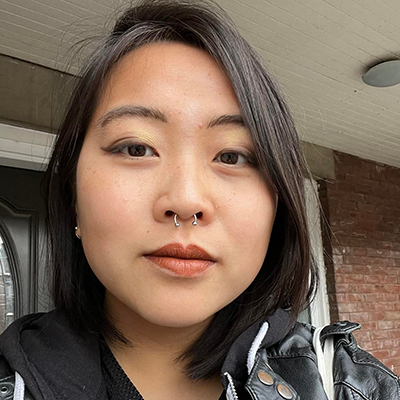 Jody Chan is a writer, drummer, organizer, and therapist based in Toronto/Tkaronto. They are the author of haunt (Damaged Goods Press), all our futures (PANK), and sick (Black Lawrence Press), winner of the 2018 St. Lawrence Book Award, and 2021 Trillium Award for Poetry. They are also a performing member with RAW Taiko Drummers. They can be found online at https://www.jodychan.com/.
---